What happened to Ousmane Dembele Barcelona
The Ousmane Dembele's situation right now is totally appalling and one that needs urgent attention to help both the player and his club.
He has got himself injured again, this time for a long gap of 6 months. A hamstring injury has sidelined the French winger and he will be missing the rest of the season as well as the Euro 2020 .So What should Barça do now with Dembele?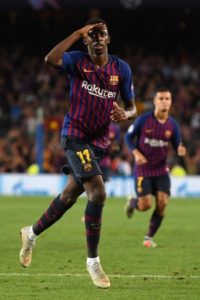 Since signing for £130m from Borrusa Dortmund in 2017/18 season, his time at the Catalan club has been marked with injuries that has sidelined him for most part.
In 2017/18 season, he played a total of 24 games for Barca, scored 4 goals with 9 assists.
2018/19 was his best season so far : a total of 42 matches, 14 goals with 9 assists.
While this 2019/2020 season has seen him play only 9 matches with 1 goal.
It so surprising that the 74 matches he had played for Barça, he has only completed 10 matches till the end of the referee's whistle.
What should Barça do with Dembele:
I know that the board is poised between the devil and the deep sea in Ousmane Dembele's case.
The decision to sell or keep him will be so crucial and will spark a lot of debate and public outcries.
Since he won't play again till late August or early September 2020, they can't sell him at the summer transfer window, lest they get half of what they paid for him from Dortmund,
And also keeping him for the next 2020/21 season is also tricky because he might come back, play another 2 months and get injured again.
And so, he's gonna give the board a tough decision to make.